Hey Y'all!!!  I love picnics and I love watermelon.  Not necessarily with ants, however.  This guy is so stinkin' cute I just might have to let him stay.  Especially with that cute face!!!  How could you possibly resist sharing your watermelon with him?
Started with beautiful card stock from Fun Stampers Journey.  The Black Licorice & Rich Coral have a great contrast.  Added some patterned paper from the Designers Choice Prints set.  The pack has a beautiful print that fades from light to dark Rich Coral.  Matches perfectly.  Looks great with the watermelon too!
That cute little ant is one of the stamps in the "Ants At A Picnic" stamp set from Whimsy Stamps.  You can check it out HERE.  The stamp set includes two other cute ants and lots of fun sentiments.  
Concord & 9th has the perfect stamp set for a small group of flowers attached to the top of the lattice.  Don't they look beautiful.  "Annuals" stamp set actually comes with a matching die called, you guessed it,  "Annuals" dies.  LOVE matching stamps & dies.  You can find the Annuals stamp set HERE, and the die set HERE.  It also works perfectly for their new 2020 Calendar which you can see HERE.
Fun Stampers Journey has some great dies to add a little something extra to your projects.  I used the "Stripe Band Die Set" for the strip of lattice and cust a few of the rectangles using the Journey Rectangles Dies.  You can find the Stripe Band Die Set HERE and the Journey Rectangles Dies HERE.  Fun and so easy to use with your favorite die cutting machine.
I punched out the sentiment "Every day with you is a PICNIC" with the 1 1/2 Oval & 1 3/4 Scallop punches from Fun Stampers Journey.  You can find the punches (1 1/2 Oval HERE, 1 3/4 Scallop HERE) and the Punch Handle HERE.
Finished it off with a few gems & sparkles.
The Copic Markers I used are:




Watermelon (R20, R22, R24, 100, YG01, YG03, YG05)




Annual Flowers (R20, R22, R24, YG09, YG17, YG67)




Ant (B00, B02, B04, B16, Y11, Y32, Y35, C1, C3)
Copic markers used for coloring are from @scrapbookpal.
Purchase copic markers from my ScrapbookPal affiliate site HERE.
Below are all the ingredients for this cute card: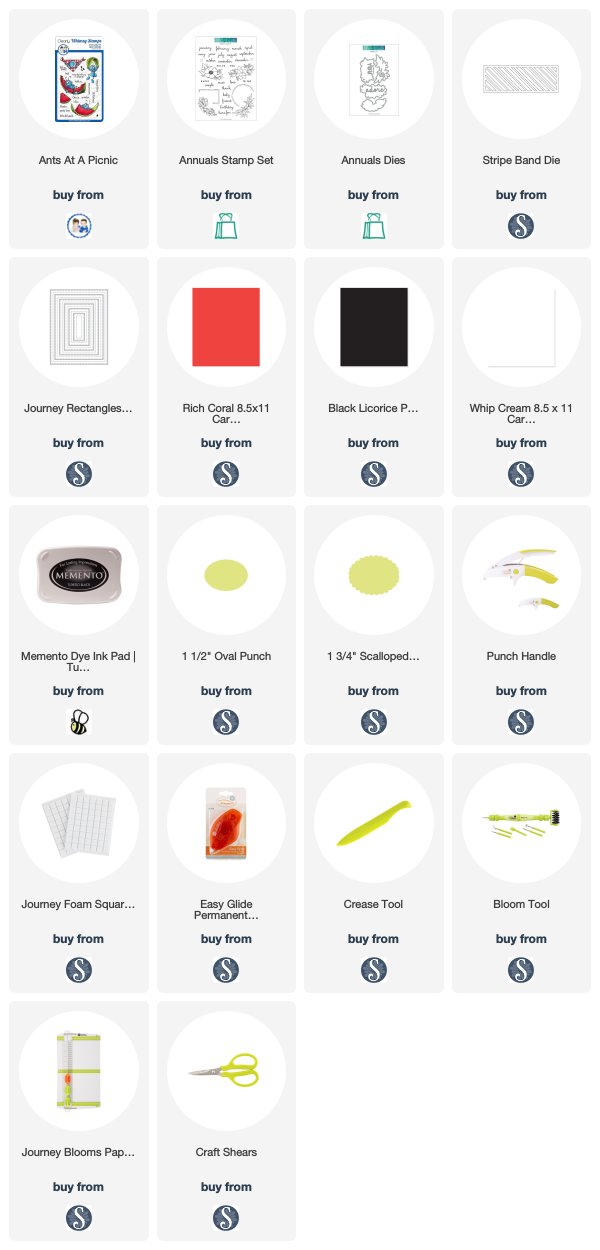 Click below to follow me on Facebook, Instagram, Twitter & Pinterest!
Bring All Your Ideas To Life… ♥
#lollipotsnpolkadots @teresacplunkett @lollipotsnpolkadots.com #card #diy #handmade #handmadecards #handmadecard #custommade #greetingcards #sayitinwriting #craft #papercraft #papercrafter #papercrafting #papercraftingaddict #cardmaking #cardmaker #lovepaper #paperlove #clearstamps #stamps #ilovestamps #ilovestamping #sharehandmadekindness #creative #makingcards #diycards #cardmakinghobby #cartmakerofinstagram #bethedifference #createandcapture #startofsomethingyou #startofsomethingspecial #diecutcard #cardmakinghobby #madewithlove #makeprettythings