Hey Y'all!!!  Winter is just around the corner here in North Carolina!  I do love all the seasons but can't wait until Spring is here again and beautiful flowers are blooming.  Daisies are some of my favorites.  So light and airy.  Like little fairy flowers blooming in your yard.  What's your favorite color of flower?
Started with beautiful card stock from Fun Stampers Journey.  Watermelon Fusion, Electric Lime & Beach Breeze are three bright beautiful spring colors.  I can almost smell the fragrance!
The 'Happy Daisies" are from @makeitcrafty.  Unfortunately Make It Crafty is closing their doors November 30th.  Get the digital stamps, wooden woods and other fun items while you can.  You can check out Make It Crafty HERE.  
I added a little bit of whimsy with the 'Deckle Edge' Honey Cuts from @honeybeestamps. Added some texture to the Beach Breeze card stock using the 'Lots of Dots' Die Set from @fsjourney. Fun and so easy to use with your favorite die cutting machine.
I stamped the sentiment with Watermelon Fusion Ink from Fun Stampers Journey.  Sentiment is from the 'Everyday Script' Stamp Set & Die Set from Fun Stampers Journey.  Cut the original sentiment with the die and then cut two out of Beach Breeze to shadow the top and bottom.  Popped them up with Fun Stampers Journey Foam Squares found HERE.
The Copic Markers I used are:


RV09, RV04, RV02, G14, G12, G07
V09, V06, V05, Y35, Y11 Y08
R27, R24, R22, B16, B04, B00, 100
Copic markers used for coloring are from @scrapbookpal.
Purchase copic markers from my ScrapbookPal affiliate site HERE.
Below are all the ingredients for this cute card: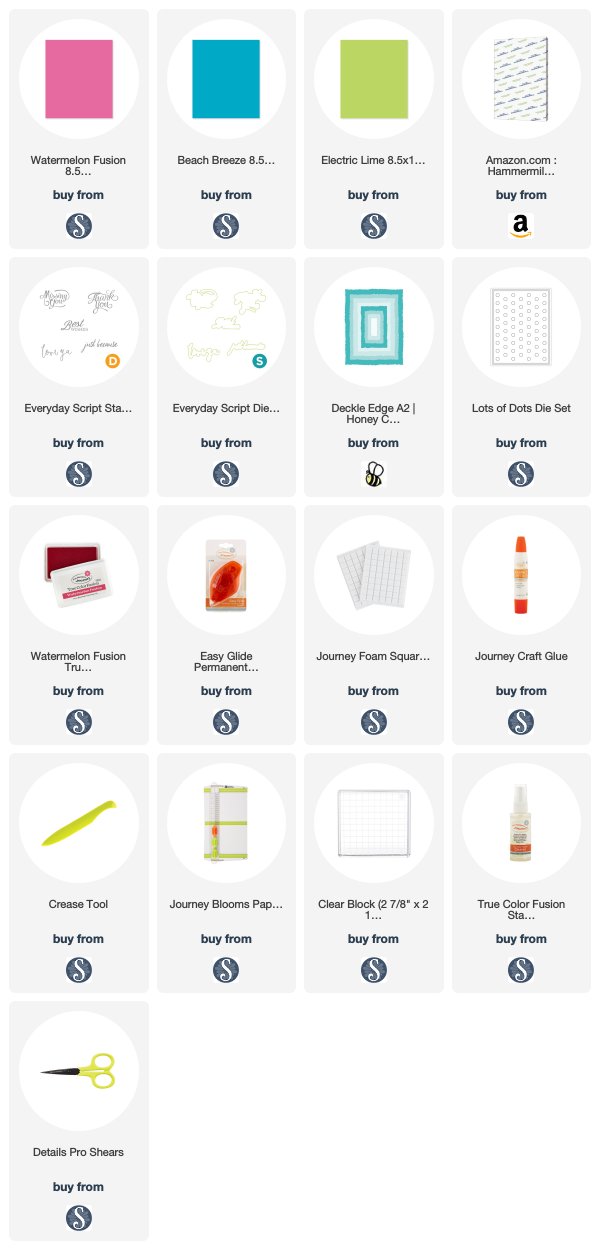 Click below to follow me on Facebook, Instagram, Twitter & Pinterest!
Bring All Your Ideas To Life… ♥
#lollipotsnpolkadots @teresacplunkett @lollipotsnpolkadots.com #card #diy #handmade #handmadecards #handmadecard #custommade #greetingcards #sayitinwriting #craft #papercraft #papercrafter #papercrafting #papercraftingaddict #cardmaking #cardmaker #lovepaper #paperlove #clearstamps #stamps #ilovestamps #ilovestamping #sharehandmadekindness #creative #makingcards #diycards #cardmakinghobby #cartmakerofinstagram #bethedifference #createandcapture #startofsomethingyou #startofsomethingspecial #diecutcard #cardmakinghobby #madewithlove #makeprettythings