Hey Y'all!!!  I originally colored Pumpkin Spice Sprite from Aurora Wings for day 25 of #thedailymarker30day coloring challenge with @kathyrac. Added her to a big latte just for you. She's a beautiful digital stamp you can find HERE.  Everything is better with Whip Cream!!  She's got it in her cup and you've got it on top of your latte behind her.  Don't you just want to take a sip?!?
I used card stock from from Fun Stampers Journey.  Beach Breeze, Orange Creamsicle and Raspberry Berry.  The sprite and your whip cream were colored with copic markers on Hammermill paper.
Whimsy Stamps has such cute 6 x 6 paper pads.  Matched my solid card stock perfectly.  Thought it would be cute to have falling whip cream dots on your latte.
Honey Bee Stamps has a great latte die called Frappe Shake Card.  It includes 8 dies that include the cup, whip cream and lid.  What a fun cup of frappe!
The sentiment is from The Stamp Doctor's Coffee Sayings 1.  Finished her up with some retired spring accent dots from Fun Stampers Journey.
Copic Markers for Pumpkin Sprite:
Cup, Pumpkins & Leaves - G28, YG17, YG03, R39, YR09, YR14 
Hair - E40, E44, E43, E79 
Skin - R20, R30, E04, E000, E00, E21, E11 
Dress - BG49, BG32, BG18, BG11, BG10 
Hot Chocolate - W5, W3, W1
Copic Markers for Latte:
Whip Cream: YR14, YR04, R11
Copic markers used for coloring are from @scrapbookpal.
Purchase copic markers from my ScrapbookPal affiliate site HERE.
Below are all the ingredients for this cute card: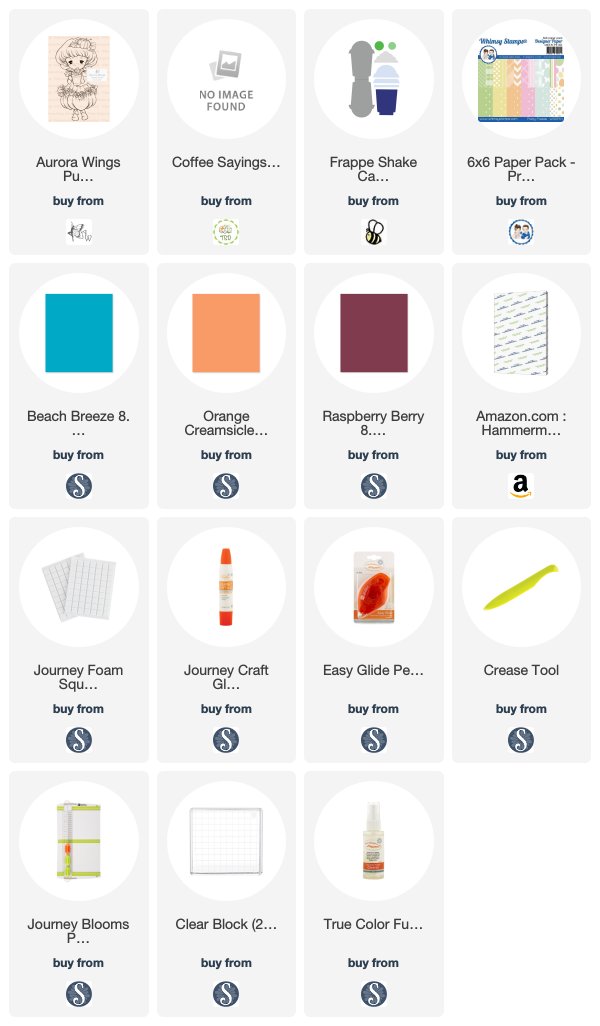 Click below to follow me on Facebook, Instagram, Twitter & Pinterest!
Bring All Your Ideas To Life… ♥
#lollipotsnpolkadots @teresacplunkett @lollipotsnpolkadots.com #card #diy #handmade #handmadecards #handmadecard #custommade #greetingcards #sayitinwriting #craft #papercraft #papercrafter #papercrafting #papercraftingaddict #cardmaking #cardmaker #lovepaper #paperlove #clearstamps #stamps #ilovestamps #ilovestamping #sharehandmadekindness #creative #makingcards #diycards #cardmakinghobby #cartmakerofinstagram #bethedifference #createandcapture #startofsomethingyou #startofsomethingspecial #diecutcard #cardmakinghobby #madewithlove #makeprettythings