Hey Y'all!!!  How about a little Java?  I could have a cup of this everyday, couldn't you.  A festive drink especially at Christmas time.  What's your favorite flavor?
I started by using Copic Markers to color the cups of Java from @pinkandmain.  I don't ever match the images to the paper but rather match the paper to the images.  Coloring just sort of sets the stage for the entire project.  Added some glitter to the mugs using some glitter pens I had.  I LOVE glitter and shiny things!  The Christmas Mugs stamp set and die are from #pinkandmain.  Just think about sitting in front of a roaring fire!
Pink & Main has such cute 6 x 6 paper pads.  Such bright Christmas Colors.  Matched my solid card stock perfectly.
The beautiful card stock is from Fun Stampers Journey.  I used Candy Apple, Beach Ball & Limeade Splash.  Complimented the colors in Pink & Main's Be Merry Christmas Paper Pad.
The sentiment is included with the Christmas Mugs stamp set from Pink & Main.  Enjoy the Java!  Stamped the sentiment in Black Licorice ink from Fun Stampers Journey.
Card Layers:
Card 8.5 x 5.5 – Beach Ball
1st – 5.25 x 4 – Be Merry
2nd – 4 1/2 x 3 1/4 – Candy Apple
3rd – 4 x 2 3/4 – Be Merry
4th – 4 1/2 x 2 – Limeade Splash
(3) strips 1/2 inch wide (Candy Apple, Beach Ball & Limeade Splash)
Copic markers used for coloring are from @scrapbookpal.
Purchase copic markers from my ScrapbookPal affiliate site HERE.
Copic Markers: 
R46, R29, R24, R32, YG67, YG17, YG06, B05, B02, B000, B0000, E79, E57, E23
Below are all the ingredients for this cute card: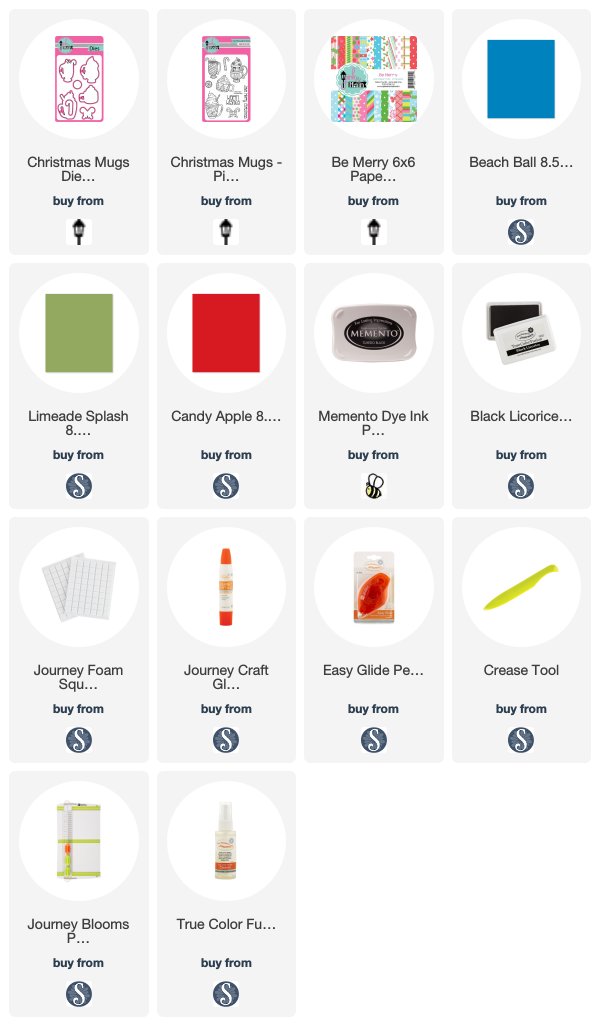 Click below to follow me on Facebook, Instagram, Twitter & Pinterest!
Bring All Your Ideas To Life… ♥
#lollipotsnpolkadots @teresacplunkett @lollipotsnpolkadots.com #card #diy #handmade #handmadecards #handmadecard #custommade #greetingcards #sayitinwriting #craft #papercraft #papercrafter #papercrafting #papercraftingaddict #cardmaking #cardmaker #lovepaper #paperlove #clearstamps #stamps #ilovestamps #ilovestamping #sharehandmadekindness #creative #makingcards #diycards #cardmakinghobby #cartmakerofinstagram #bethedifference #createandcapture #startofsomethingyou #startofsomethingspecial #diecutcard #cardmakinghobby #madewithlove #makeprettythings