Hey Y'all!!!  This Christmas I've got three special presents for my mom and two brothers.  Can't tell what it is yet cuz I don't want to spoil the surprise!  Made three special gift tags to attach to their presents.  They are going to LOVE them.  
I cut the tags with a Cricut design.  The cute Snowman Die is from Fun Stampers Journey!  The set includes hat, eyes, nose, cute little round face, scarf and holly.  The separate pieces allow you to use your favorite card stock colors.
The sentiment is from the Fun Stampers Journey Holiday Cookies stamp set.  It  includes the cutest little cookie stamps and a cookie jar to hold them all.  Even includes a set of gloves to take them out of the oven.  LOVE hot cookies at Christmas.  I stamped the 'Merry Christmas' sentiment in Black Licorice ink from Fun Stampers Journey.  Punched it out with a retired oval punch but you could use whatever shape you would like.
The beautiful card stock is from Fun Stampers Journey.  I used Lavender Fusion, Deep Lilac, Pretty Pansy, Beach Ball, Black Licorice, Candy Apple, Tangerine Fusion and Limeade Splash.  Tore off the top of some Whip Cream card stock to make the mountains of snow.
Finished it off with little white candy dots and a white gel pen to highlight his eyes, hat, nose & scarf.
Below are all the ingredients for this cute card: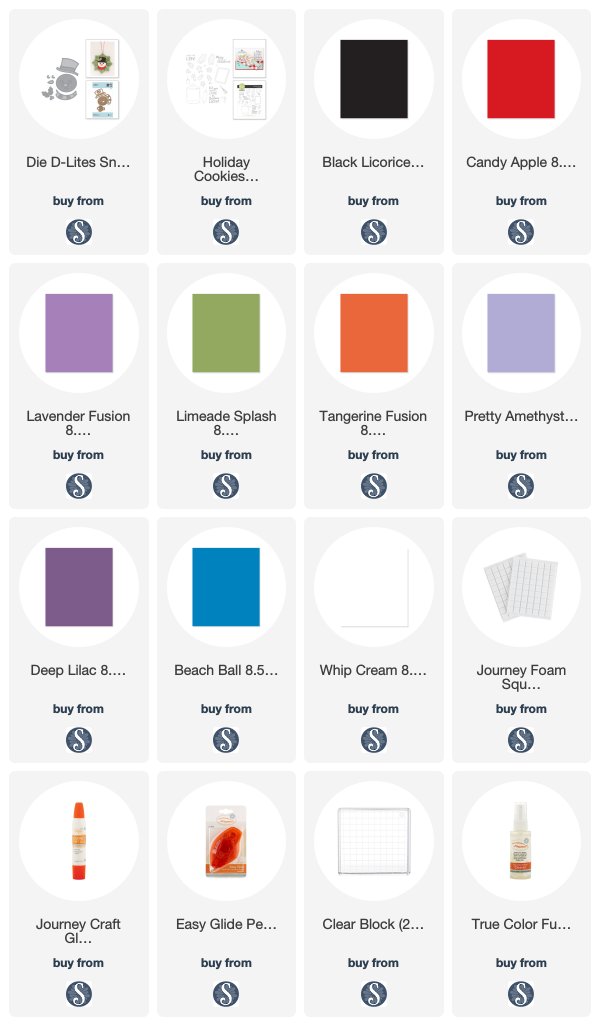 Click below to follow me on Facebook, Instagram, Twitter & Pinterest!
Bring All Your Ideas To Life… ♥
#lollipotsnpolkadots @teresacplunkett @lollipotsnpolkadots.com #card #diy #handmade #handmadecards #handmadecard #custommade #greetingcards #sayitinwriting #craft #papercraft #papercrafter #papercrafting #papercraftingaddict #cardmaking #cardmaker #lovepaper #paperlove #clearstamps #stamps #ilovestamps #ilovestamping #sharehandmadekindness #creative #makingcards #diycards #cardmakinghobby #cartmakerofinstagram #bethedifference #createandcapture #startofsomethingyou #startofsomethingspecial #diecutcard #cardmakinghobby #madewithlove #makeprettythings