Hey Y'all!!!  Sure is getting cold again outside.  Wish we'd have a White Christmas!  Is yours going to be white?  How beautiful that would be.  I originally colored this cute little snowman for #thedailymarker30day challenge with @kathyrac and here's the finished card. 
I started by using Copic Markers to color the snowman & snowwoman.  They make such a cute couple.  The snowman & snowwoman are part of the 'Snowmen Days' stamp set from @FSJourney.  Along with the matching 'Snowmen Days' die it's such a cute set!!  Don't you just love these little snowmen?  
Whimsy Stamps has such cute 6 x 6 paper pads.  Such beautiful colors.  'Chilly' matched my solid Beach Ball card stock perfectly.
The beautiful card stock is from Fun Stampers Journey.  I used Beach Ball & Whip Cream . Matched the 'Chilly' Designer Paper perfectly.
Card Layers:
Card 8.5 x 5.5 – Beach Breeze
1st – 5.25 x 4 – Whip Cream
2nd – 5 x 3.75 – Chilly @whimsystamps
3rd – 4 1/2 x 1 1/2 – Whip Cream (2 of these)
4 1/4 x 1/1/4 – Chilly @whimsystamps (2 of these)
As a background for the sentiment  from @FSJourney called Holiday Lights I used the Deckled Edge Die from @honeybeestamps and layered them.
Copic markers used for coloring are from @scrapbookpal.
Purchase copic markers from my ScrapbookPal affiliate site HERE.
Copic Markers: 
Hats & Scarves - 100, C7, C5, C3, C1, R59, R29, R24, R22, B05,B02, B00, 
Coats - RV09, RV04, RV02, YG17, YG05 
Arms - E47, E35 
Snow - B000 
Nose - YR07, YR04
Below are all the ingredients for this cute card: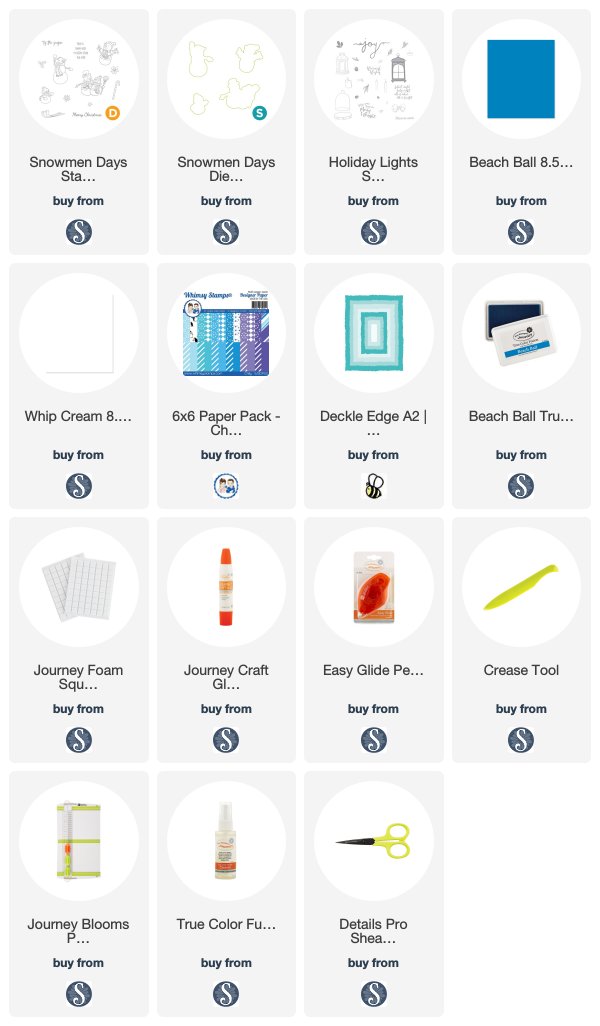 Click below to follow me on Facebook, Instagram, Twitter & Pinterest!
Bring All Your Ideas To Life… ♥
#lollipotsnpolkadots @teresacplunkett @lollipotsnpolkadots.com #card #diy #handmade #handmadecards #handmadecard #custommade #greetingcards #sayitinwriting #craft #papercraft #papercrafter #papercrafting #papercraftingaddict #cardmaking #cardmaker #lovepaper #paperlove #clearstamps #stamps #ilovestamps #ilovestamping #sharehandmadekindness #creative #makingcards #diycards #cardmakinghobby #cartmakerofinstagram #bethedifference #createandcapture #startofsomethingyou #startofsomethingspecial #diecutcard #cardmakinghobby #madewithlove #makeprettythings