Hey Y'all!!!  You can always use a cute birthday card for someone special.  I love "Let's Eat Cake" from Fun Stampers Journey.  Includes cakes, cake stands, macaroons and cute sentiments.  Added balloons as the background and as an accent to bring even more to the party.  Wish BIG!  
I started by using Copic Markers to color the Cake.  Such colorful icing.  Can't wait to cut into it!.  Cake and cake pan are part of the "Let's Eat Cake" stamp set from @FSJourney.  Thought the candles should have glitter.  Everything is better with glitter!  
To cut the balloons I used the "Uplift Die Set" from Fun Stampers Journey.  It includes 4 different sizes of balloons to fit any size project.
The Celebrate 6 x 6 paper pad from Pink & Main is filled with great celebration patterns.  
The beautiful card stock is from Fun Stampers Journey.  I used Huckleberry Fusion, Limeade Splash & Rich Coral.
I used the sentiment from "Let's Eat Cake" to say Happy Birthday. Embellished with a white gel pen and silver twine.
Copic markers used for coloring are from @scrapbookpal.
Purchase copic markers from my ScrapbookPal affiliate site HERE.
Copic Markers:




Y38, Y15, Y11, YG17, YG07, YG01, V17, V15, V12, RV09, RV02, B05, B04, B02, R35, R32, R30
Below are all the ingredients for this cute card: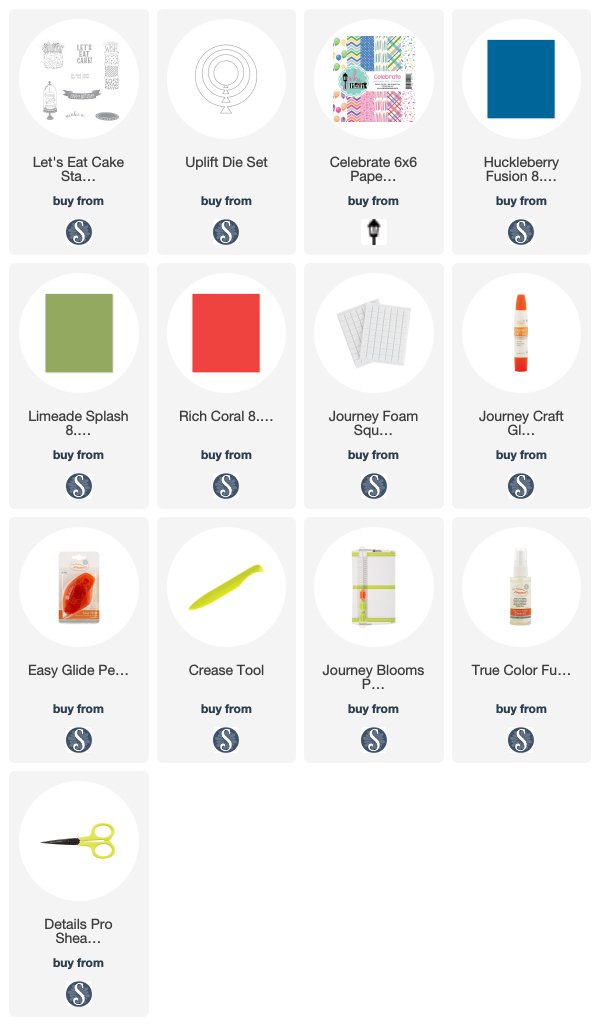 /span>
Click below to follow me on Facebook, Instagram, Twitter & Pinterest!
Bring All Your Ideas To Life… ♥
#lollipotsnpolkadots @teresacplunkett @lollipotsnpolkadots.com #card #diy #handmade #handmadecards #handmadecard #custommade #greetingcards #sayitinwriting #craft #papercraft #papercrafter #papercrafting #papercraftingaddict #cardmaking #cardmaker #lovepaper #paperlove #clearstamps #stamps #ilovestamps #ilovestamping #sharehandmadekindness #creative #makingcards #diycards #cardmakinghobby #cartmakerofinstagram #bethedifference #createandcapture #startofsomethingyou #startofsomethingspecial #diecutcard #cardmakinghobby #madewithlove #makeprettythings