Hey Y'all!!!  Did you know that English illustrator John Enniel depicted The Hatter wearing a hat with 10/6 written on it. The 10/6 refers to the cost of a hat — 10 shillings and 6 pence.  It later became the date and month to celebrate Mad Hatter Day.  I'd love to have a birthday party with him!  Wouldn't you?  He's available from @stampingbella with a matching die.  Don't you just love matching dies?
Colored him first with Copic Markers listed farther down in this post.  Matched the copic marker colors to sold cardstock from Fun Stampers Journey.  Used Turbo Teal and Whip Cream.   Whimsy Stamps has a beautiful 6 x 6 paper pad that matched perfectly.  How cute is the name 'Otter'?
I had purchased some chipboard sentiments from Make It Crafty before the shop closed.  Loved the birthday sentiment.  Colored it with Copic Markers and attached it to the top of the image.  It's actually two pieces of chipboard, a thicker sentiment in the back.
Card Layers:


5 1/4 x 4 Whimsy Stamps Otter
4 x 3 1/2 – Whip Cream
3 3/4 x 3 1/4 – Whimsy Stamps Otter
3 1/2 x 3 – Turbo Teal

Copic markers used for coloring are from @scrapbookpal.

Purchase copic markers from my ScrapbookPal affiliate site HERE.
Copic Markers:




Skin - E04, E11, E01, E000




Eyes - BV31, B0000




Hair - E79, E29, E09




Coffee Pot & Cup - C3, C1, C00




Shoes & Stockings - C6, C4, C2, BG99, YG99, YG67, BG45, RV17




Clothes & Hat - BG99, YG99, YG67, E57, YR18, YR14, E43, E40, C3, C1, V99, RV17, BG78, Bg07, BG45
Below are all the ingredients for this cute card: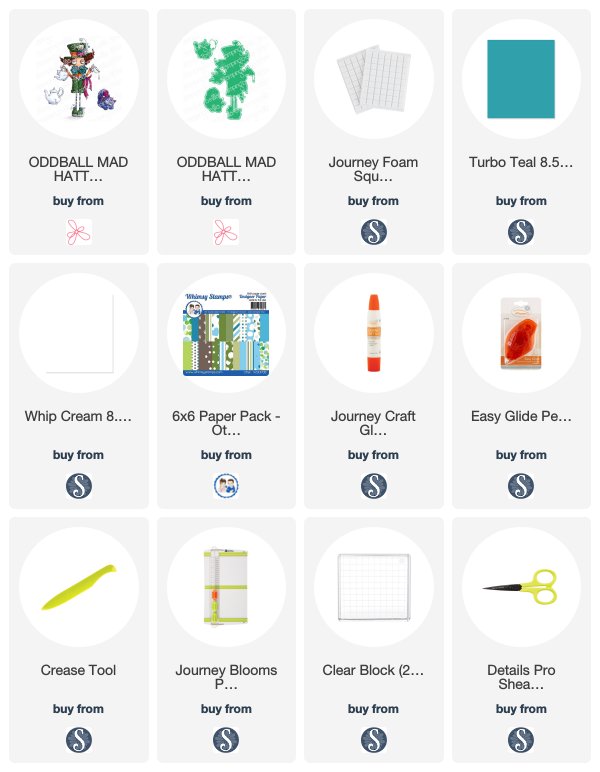 Click below to follow me on Facebook, Instagram, Twitter & Pinterest!
Bring All Your Ideas To Life… ♥
#lollipotsnpolkadots @teresacplunkett @lollipotsnpolkadots.com #card #diy #handmade #handmadecards #handmadecard #custommade #greetingcards #sayitinwriting #craft #papercraft #papercrafter #papercrafting #papercraftingaddict #cardmaking #cardmaker #lovepaper #paperlove #clearstamps #stamps #ilovestamps #ilovestamping #sharehandmadekindness #creative #makingcards #diycards #cardmakinghobby #cartmakerofinstagram #bethedifference #createandcapture #startofsomethingyou #startofsomethingspecial #diecutcard #cardmakinghobby #madewithlove #makeprettythings