Hey Y'all!!!  I love this beautiful stamp set from @stampinup.  What a beautiful flower in bloom.  And the smell!  Ahhhhhhh.  Created this for a Stampin' UP! card chain.  What fun.  All the beautiful cards that are being sent & received.  All the details for this card are below (including links).
I started with the "Good Morning Magnolia" stamp set from Stampin' UP!.  It has a matching die which I didn't use this time but makes it so easy to cut out the beautiful flowers after you have colored them.   This time I just stamped the flower in black.  Was working for a monochromatic look but decided in the end to add a little color.  Surround each white piece with some "Calypso Coral" card stock also from Stampin' UP!.  Used a piece of "Basic Black" card stock for some interest and "Calypso Coral" for the sentiment.  Added some sparkly silver gems in two corners for a little accent.  Everything is listed below under "Ingredients".
Purchase "Thinking of You with Magnolia's" greeting card below.  




Includes blank insert & white envelope.  $5.00 & Shipping is free!




Layers, Shops & Copic Markers:
---
---
CARD LAYERS:
8 1/2 x 5 1/2 Scored at 4 1/4 – Calypso Coral
5 1/4 x 4 – Basic Black
Panel 4 1/4 x 3 7/8 – Calypso Coral
Panel 3 11/16 x 3 1/4 – Calypso Coral
Panel 3 x 3 11/16 – Calypso Coral
Large Flower 4 1/8 x 3 3/4 – Whisper White
Large Flower 3 1/2 x 3 1/8 – Whisper White
Large Flower 2 7/8 x 2 9/16 – Whisper White
STAMPING SHOPS:
COPIC MARKERS:
• Flowers (BG49, BG18, BG32, Y18, Y06, Y11)
• White Gel Pen
Ingredients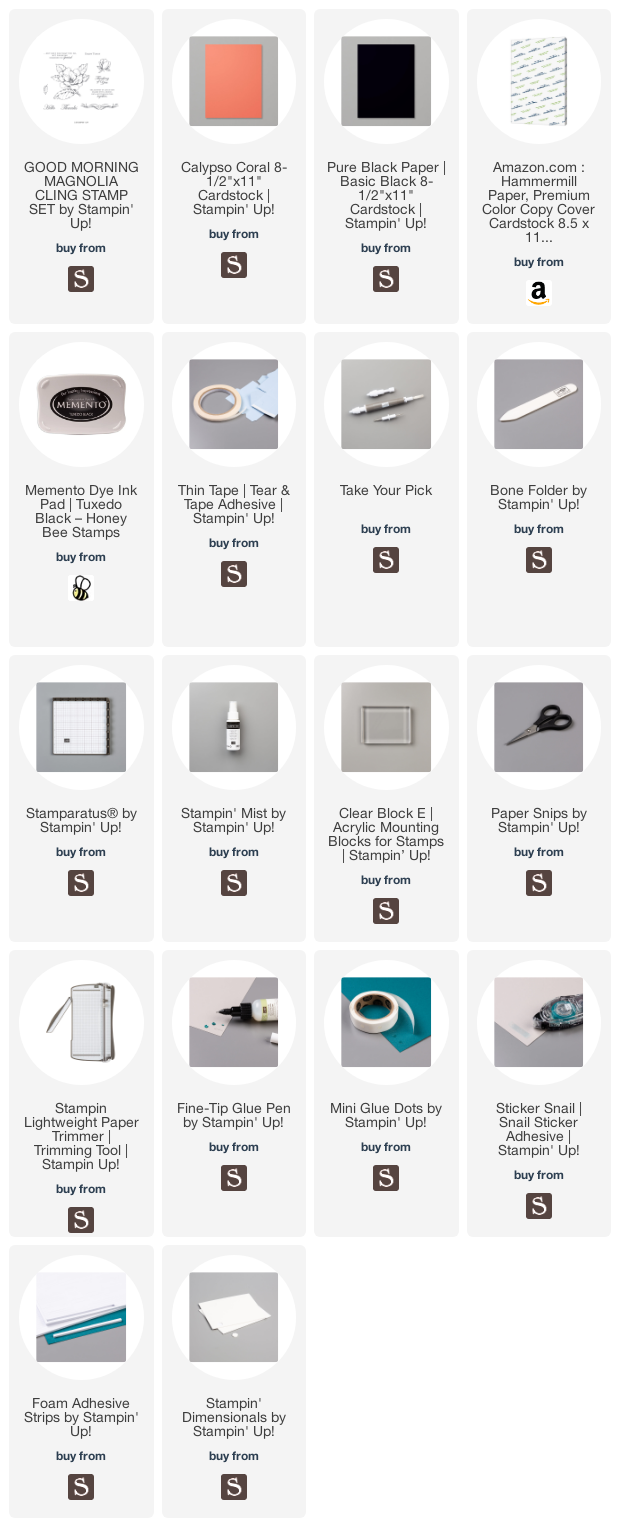 Click below to follow me on Facebook, Instagram, Twitter & Pinterest!
Bring All Your Ideas To Life… ♥
#lollipotsnpolkadots @teresacplunkett @lollipotsnpolkadots.com #card #diy #handmade #handmadecards #handmadecard #custommade #greetingcards #sayitinwriting #craft #papercraft #papercrafter #papercrafting #papercraftingaddict #cardmaking #cardmaker #lovepaper #paperlove #clearstamps #stamps #ilovestamps #ilovestamping #sharehandmadekindness #creative #makingcards #diycards #cardmakinghobby #cartmakerofinstagram #bethedifference #createandcapture #startofsomethingyou #startofsomethingspecial #diecutcard #cardmakinghobby #madewithlove #makeprettythings