Hey Y'all!!!  I do love @whimsystamps dragons designed by @dustinpikedraws.   This little guy cracked me up.  Thought at first the Cooke Monster was eating Dudley.  Then I realized it was a costume.  What fun!!  All the details for this card are below (including links).
I started by coloring Dudley and his costume with Copic Markers..
COPIC MARKERS:
• Dragon (YG07, YG05, YG01, V17, V15, V06, B0000, C1)
• Monster (B28, B24, B21, R43, R20)
• Bear (E47, E44, E43, R20)
• Flashlight (C7, C5, C3, C1, Y38)
Used a combination of Stampin' UP! card stock, Pacific Point, Granny Apple Green and Highland Heather.  They matched perfectly with the fun Cosmic printed paper from Whimsy Stamps. So many cool patterns.  Cut a corner of one to make the flashlight beam.
The checkerboard die from Whimsy Stamps made the perfect background.  Layered another piece of Cosmic printed paper with the Connected Oval Die also from Whimsy.  The border was cut by using two of the Zig Zag Rectangles Die together.
Purchase "Monsters Are Real" greeting card below.  




Includes blank insert & white envelope.  $6.00 & Shipping is free!




Layers, Shops & Copic Markers:
---
---
CARD LAYERS:
8.5 x 5.5 scored at 4.25 – Pacific Point
Zig Zag Rectangle – Highland Heather
Checkerboard – Granny Apple Green
STAMPING SHOPS:
Ingredients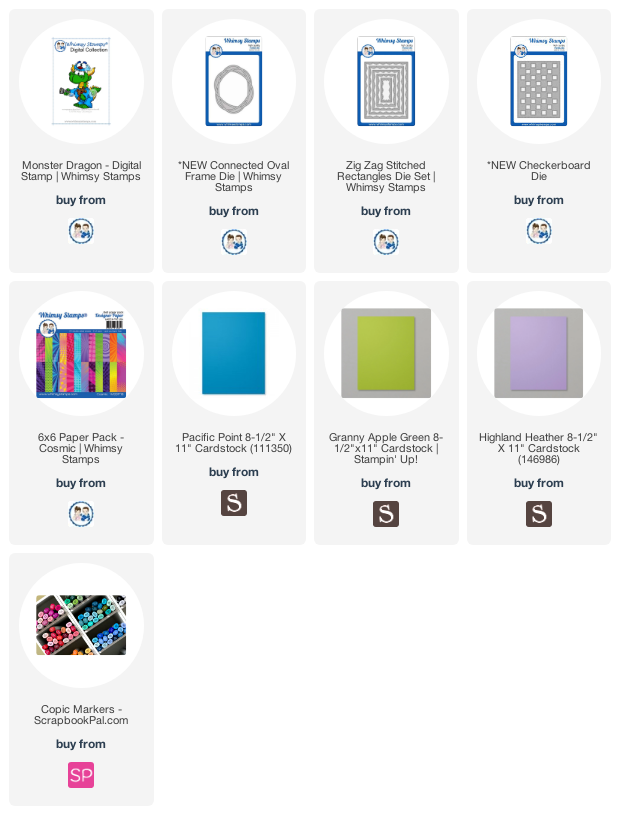 Click below to follow me on Facebook, Instagram, Twitter & Pinterest!
Bring All Your Ideas To Life… ♥
#lollipotsnpolkadots @teresacplunkett @lollipotsnpolkadots.com #card #diy #handmade #handmadecards #handmadecard #custommade #greetingcards #sayitinwriting #craft #papercraft #papercrafter #papercrafting #papercraftingaddict #cardmaking #cardmaker #lovepaper #paperlove #clearstamps #stamps #ilovestamps #ilovestamping #sharehandmadekindness #creative #makingcards #diycards #cardmakinghobby #cartmakerofinstagram #bethedifference #createandcapture #startofsomethingyou #startofsomethingspecial #diecutcard #cardmakinghobby #madewithlove #makeprettythings