Hey Y'all!!!  I do love @whimsystamps dragons designed by @dustinpikedraws and here's another one.  This little guy made me laugh out loud.  I'm always shooting a bird at someone.  I think I need one sitting on my finger like Dudley.  Hysterical!!  All the details for this card are below (including links).
I started by coloring Dudley, his bird & sign with Copic Markers..
COPIC MARKERS:
• Dragon (BG07, BG05, BG13, YR09, YR04, YR02, B0000, C1)
• Bird (Y35, Y28, Y18, Y13, E37, YR09)
• Sign (E49, E37, E33, E31)
Used a combination of Stampin' UP! card stock, Pumpkin Pie & Cajun Craze.  They matched perfectly with the fun Mermaid printed paper from Whimsy Stamps. So many cool patterns and colors.
I love using the Wonky Stitched Rectangles Die Set from Whimsy Stamps.  Makes such a great edge for all the layers.  Layered the cardstock & printed paper at wonky angles.  Finished the card with some dots from Gina Marie.
Purchase "Lift A Finger" greeting card below.  




Includes blank insert & white envelope.  $6.00 & Shipping is free!




Layers, Shops & Copic Markers:
---
---
CARD LAYERS:
8.5 x 5.5 scored at 4.25 – Cajun Craze
Wonky Rectangles – Mermaid & Pumpkin Pie
STAMPING SHOPS:
Ingredients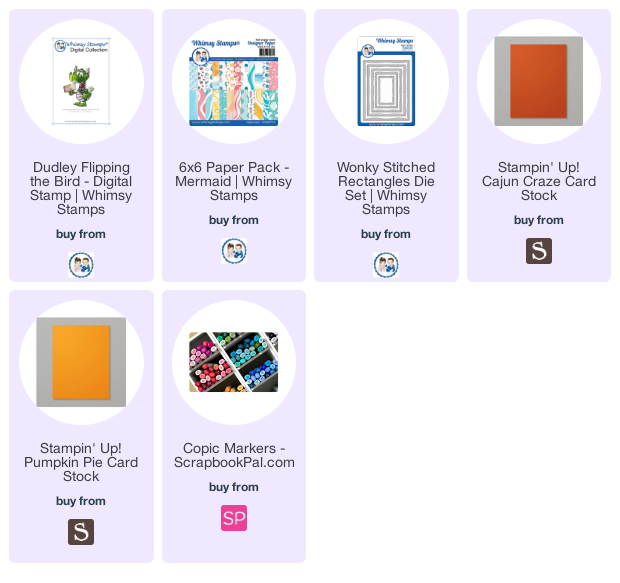 Click below to follow me on Facebook, Instagram, Twitter & Pinterest!
Bring All Your Ideas To Life… ♥
#lollipotsnpolkadots @teresacplunkett @lollipotsnpolkadots.com #card #diy #handmade #handmadecards #handmadecard #custommade #greetingcards #sayitinwriting #craft #papercraft #papercrafter #papercrafting #papercraftingaddict #cardmaking #cardmaker #lovepaper #paperlove #clearstamps #stamps #ilovestamps #ilovestamping #sharehandmadekindness #creative #makingcards #diycards #cardmakinghobby #cartmakerofinstagram #bethedifference #createandcapture #startofsomethingyou #startofsomethingspecial #diecutcard #cardmakinghobby #madewithlove #makeprettythings