Hey Y'all!!!  These little Kooky Monsters from @whimsystamps are just the cutest!  Wouldn't it be fun for some of these little monsters to show up at your door on Halloween yelling "Got Candy?".  They just make halloween so colorful.  All the details for this card are below (including links).
I started by coloring the monsters and candy with Copic Markers..
COPIC MARKERS:
• Monsters (YR07, YR04, YR02, BG07, BG05, BG02, BG000, 100, V17, V15, V04, YG09, YG07, YG06, YG01)
• Candy (YR09, V17, V15, YG09, YG07, YG05)
Used a combination of Stampin' UP! card stock, Pumpkin Pie, Granny Apple Green & Gorgeous Grape.  They matched perfectly with the fun Hocus Pocus Printed Paper from Whimsy Stamps. So many cool patterns and colors.
I created the treat box with the Card Carrier Die Set from Fun Stampers Journey.  I love using the Wonky Stitched Rectangles Die Set from Whimsy Stamps.  Makes such a great edge for layering.  Used the inserts from the Whimsy Peekaboo Window 4 Die Set for additional background fun and cut the sentiment out with the Quick Strips Die.
Layered the cardstock & printed paper at wonky angles.
Purchase "Got Candy" greeting card below.  




Includes blank insert & white envelope.  $6.00 & Shipping is free!




Layers, Shops & Copic Markers:
---
---
CARD LAYERS:
7 1/16″ x 4 1/2″ x 1 Card Carrier – Gorgeous Grape
5 1/2 x 4 1/4 – Granny Apple Green
5 1/4 x 4 – Hocus Pocus
4 1/2 x 3 1/4 – Pumpkin Pie
STAMPING SHOPS:
Ingredients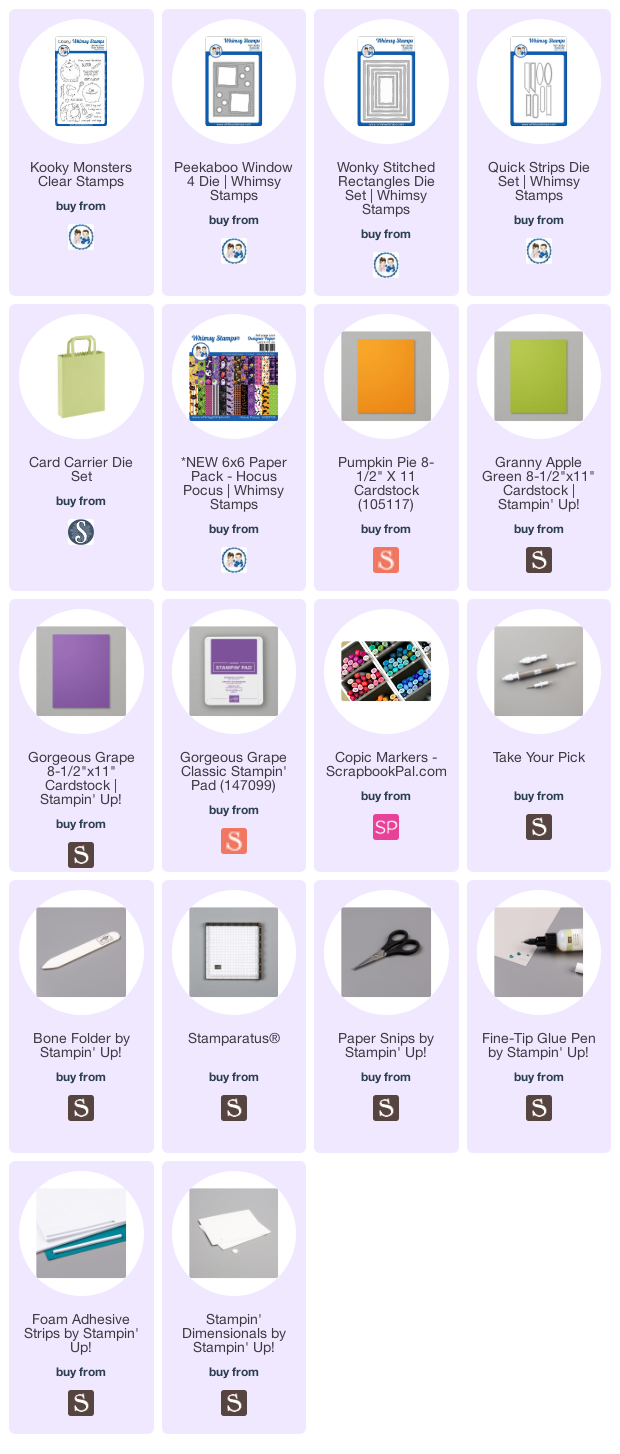 Click below to follow me on Facebook, Instagram, Twitter & Pinterest!
Bring All Your Ideas To Life… ♥
#lollipotsnpolkadots @teresacplunkett @lollipotsnpolkadots.com #card #diy #handmade #handmadecards #handmadecard #custommade #greetingcards #sayitinwriting #craft #papercraft #papercrafter #papercrafting #papercraftingaddict #cardmaking #cardmaker #lovepaper #paperlove #clearstamps #stamps #ilovestamps #ilovestamping #sharehandmadekindness #creative #makingcards #diycards #cardmakinghobby #cartmakerofinstagram #bethedifference #createandcapture #startofsomethingyou #startofsomethingspecial #diecutcard #cardmakinghobby #madewithlove #makeprettythings