Hey Y'all!!!  Do you have a stash of some leftover retired paper that you just love?  Me too!  Decided to use some on this beautiful card.  Cut the layers with Whimsy Stamps Extreme Postage dies and finished it off using the Glimmer Hot Foil Machine from Spellbinders.  Love is all that matters, right?  All the details for this card are below (including links).
I started by creating a card base from Stampin' UP!'s 'Calypso Coral' card stock.  The paper size is 8.5 x 5.5, scored on the long edge at 4.25.  Whether you use a scoring board or not, it helps to use your bone folder on the fold to make it crisp.  I created several layers of Stampin' UP!'s 'Calypso Coral' and 'Petal Pink' card stock using Whimsy Stamp's 'Extreme Postage' Dies.  I had some retired card stock that matched the two perfectly and had the added fun of some gold.  Cut some with the 'Extreme Postage' dies too.  What fun those postage stamp dies are!
Spellbinders has the most fun Glimmer Hot Foil Machine.  Lots of beautiful dies to go with it.  I chose the 'Copperplate Script Love'. Possibilities are endless.
Finished it with a flower from Little Birdie and a little piece of gold mesh ribbon.  Love always saves the day!
Ingredients: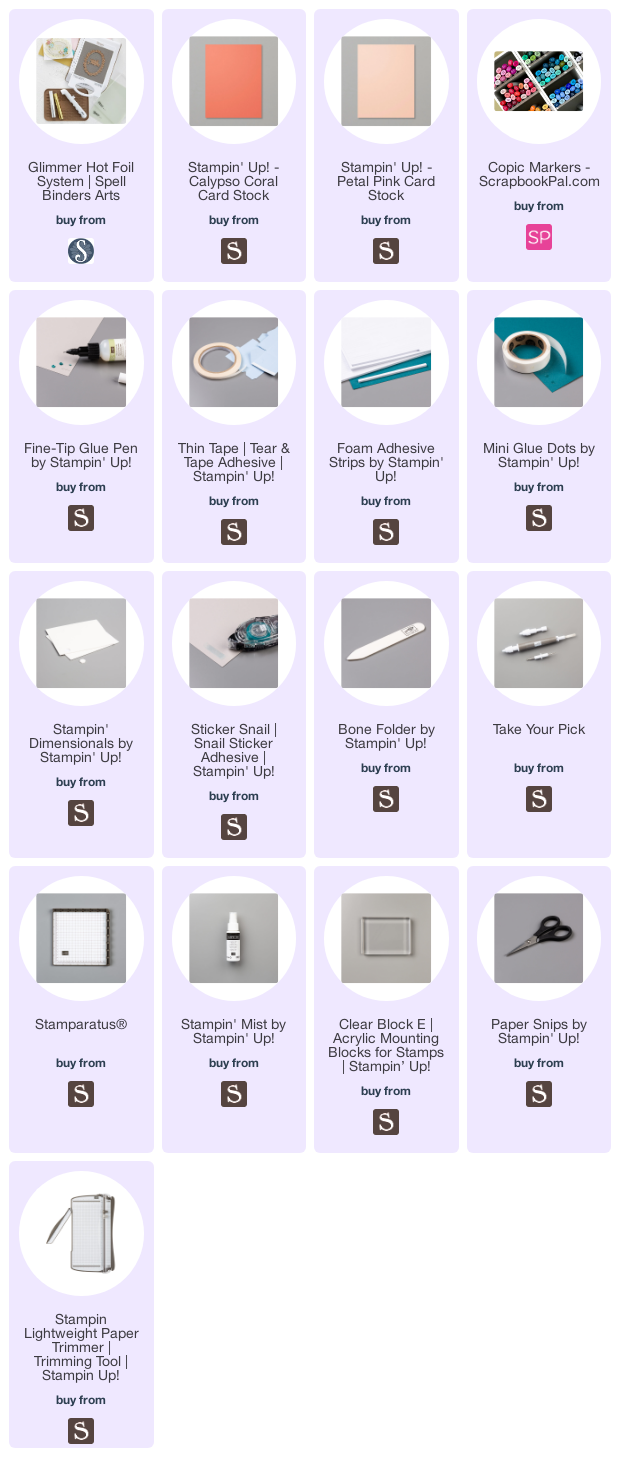 ---
Purchase "Love" greeting card below.  




Includes blank insert & white envelope.  $5.00 & Shipping is free!




Shops:
---
Disclaimer:  I am affiliated with several fun crafting companies. 
This means when you click on one of my links I will earn a small commission if you decide to make a purchase but are at NO ADDITIONAL cost to you.
Thanks for supporting crafters!
---
Click below to follow me on Facebook, Instagram, Twitter & Pinterest!
Bring All Your Ideas To Life… ♥
#lollipotsnpolkadots @teresacplunkett @lollipotsnpolkadots.com #card #diy #handmade #handmadecards #handmadecard #custommade #greetingcards #sayitinwriting #craft #papercraft #papercrafter #papercrafting #papercraftingaddict #cardmaking #cardmaker #lovepaper #paperlove #clearstamps #stamps #ilovestamps #ilovestamping #sharehandmadekindness #creative #makingcards #diycards #cardmakinghobby #cartmakerofinstagram #bethedifference #createandcapture #startofsomethingyou #startofsomethingspecial #diecutcard #cardmakinghobby #madewithlove #makeprettythings