Hey Y'all!!!  You can never have enough tags.  I like to give little special gifts and am always needing a tag.  Marci In The Garden from La-La Land Crafts is the perfect digital stamp for a gift tag.  Do you have a favorite tag you've received from someone and kept.  Comment with a picture and share the fun!  All the details for this card are below (including links).
I started by coloring 'In The Garden Marci' from La-La Land Crafts.  I just love digital stamps.  She's colored on Sweet Sentiments 'Premium Coloring Paper'.  Beautiful paper!  My fav!
COPIC MARKERS:
• Clothes, Shoes, Headband (R05, R02, R11, R00)
• Hair (100, W10, W9, W7)
• Skin (E11, E21, E04, E00, E000, R20, R30)
• Flowers (BG07, BG05, BG01, Y38, Y35, Y32)
The tag is made out of Stampin' UP!'s 'Calypso Coral' card stock and cut with La-La Land Crafts 'Large Stitched Tags' dies.  I cut a background layer using some cute polkadot paper I made with Distress Oxide Inks and Stampin' UP!'s 'Flirty Flamingo' card stock.  You can use La-La Land Crafts 'Scalloped Rectangles' dies to cut all sizes of beautiful rectangles.
Cut the Happy Birthday sentiment for the tag with Stampin' UP's 'Calypso Coral' and 'Flirty Flamingo' card stock using La-La Land Crafts 'Happy Birthday' die.  Tied a pretty little bow on the top.  So cute!
Marci's Happy Birthday tag would be SO cute on any special gift!!
---
Ingredients: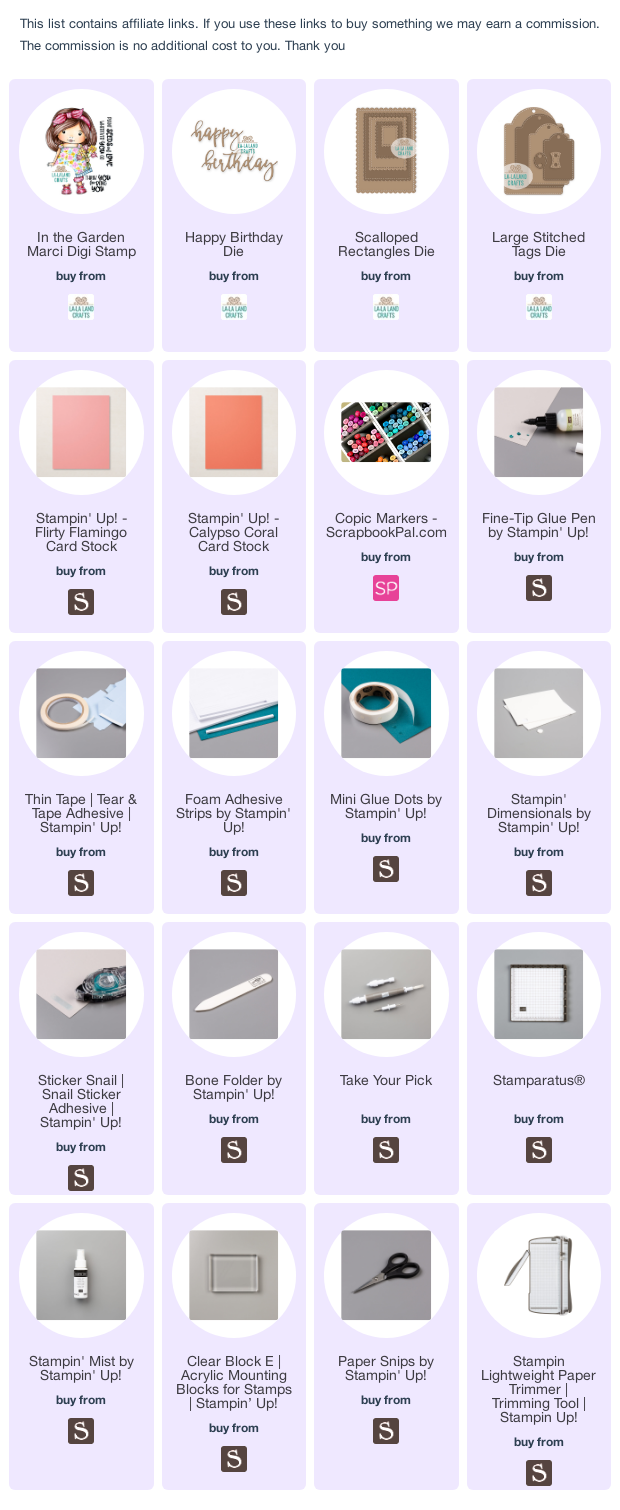 Visit my Etsy Shop HERE ! 
Shops:
---
Disclaimer:  I am affiliated with several fun crafting companies. 
This means when you click on one of my links I will earn a small commission if you decide to make a purchase but are at NO ADDITIONAL cost to you.
Thanks for supporting crafters!
---
Click below to follow me on Facebook, Instagram, Twitter & Pinterest!
Bring All Your Ideas To Life… ♥
#lollipotsnpolkadots @teresacplunkett @lollipotsnpolkadots.com #card #diy #handmade #handmadecards #handmadecard #custommade #greetingcards #sayitinwriting #craft #papercraft #papercrafter #papercrafting #papercraftingaddict #cardmaking #cardmaker #lovepaper #paperlove #clearstamps #stamps #ilovestamps #ilovestamping #sharehandmadekindness #creative #makingcards #diycards #cardmakinghobby #cartmakerofinstagram #bethedifference #createandcapture #startofsomethingyou #startofsomethingspecial #diecutcard #cardmakinghobby #madewithlove #makeprettythings