Hey Y'all!!!  So excited to showcase another a beautiful card as part of the Design Team for Scrappy Tails Crafts.  I love these fun Oopsy Daisies.  And I'm obsessed with Alcohol Inks.  How about you?
This beautiful card is available in my Etsy store HERE!  All the details for making this card yourself are below (including links).
I started by coloring the daisies from Scrappy Tails Crafts 'Oopsy Daisy' stamp set with copic markers.  What beautiful daisies.  There is a matching 'Oopsy Daisy' die set too.
You can find the Oopsy Daisy bundle HERE!
COPIC MARKERS:
• Daisies (R46, R24, G09, G07, E37, E33, Y38, Y17)
The card base is made out of Stampin' UP!'s 'Poppy Parade' card stock.   The layers are Stampin' UP!'s 'Basic White', 'Bumblebee' and 'Poppy Parade' card stock.  The sentiment is also from Scrappy Tails Crafts 'Oopsy Daisy' stamp set.  The set has several fun sentiments for you to choose from.  Added some glittery dots to finish the card.
Wouldn't you love to have those beautiful daisies in your backyard?
Ingredients: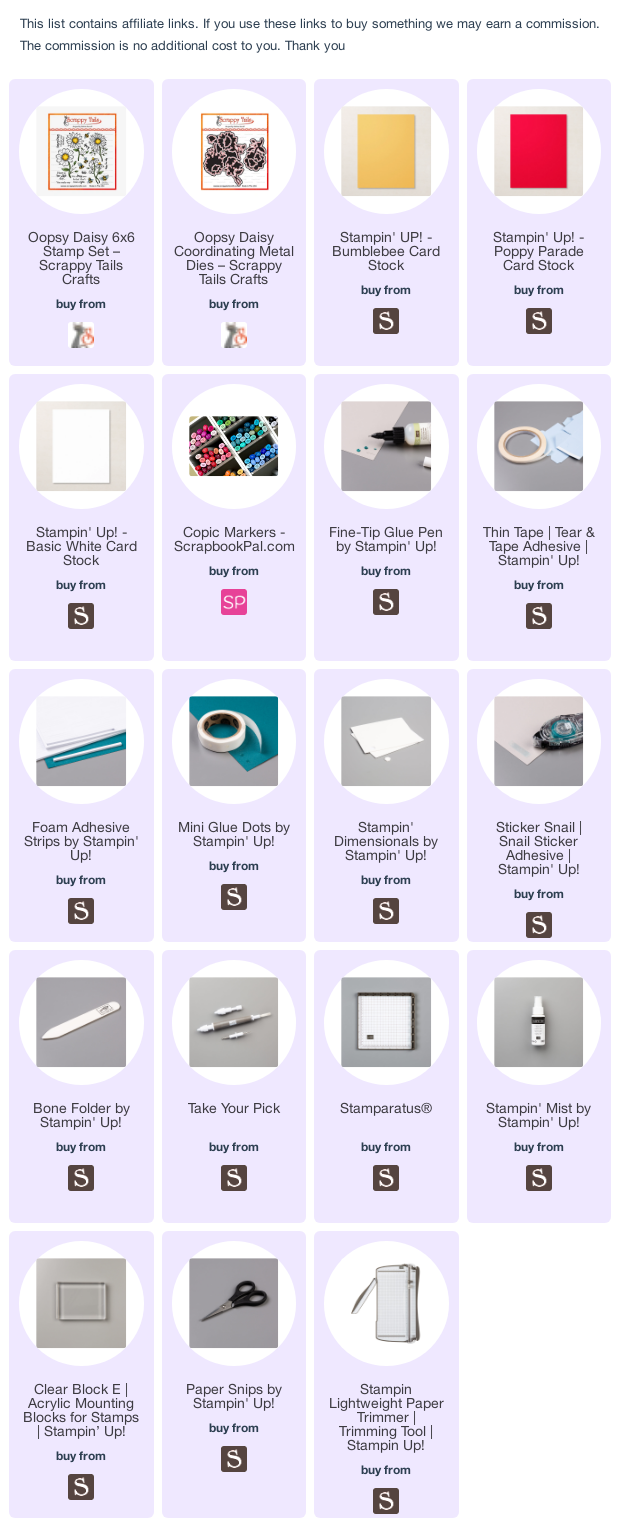 Shops:
---
Disclaimer:  I am affiliated with several fun crafting companies. 
This means when you click on one of my links I will earn a small commission if you decide to make a purchase but are at NO ADDITIONAL cost to you.
Thanks for supporting crafters!
---
Click below to follow me on Facebook, Instagram, Twitter & Pinterest!
Bring All Your Ideas To Life… ♥
#lollipotsnpolkadots @teresacplunkett @lollipotsnpolkadots.com #card #diy #handmade #handmadecards #handmadecard #custommade #greetingcards #sayitinwriting #craft #papercraft #papercrafter #papercrafting #papercraftingaddict #cardmaking #cardmaker #lovepaper #paperlove #clearstamps #stamps #ilovestamps #ilovestamping #sharehandmadekindness #creative #makingcards #diycards #cardmakinghobby #cartmakerofinstagram #bethedifference #createandcapture #startofsomethingyou #startofsomethingspecial #diecutcard #cardmakinghobby #madewithlove #makeprettythings