Hey Y'all!!!  I'm back with the Make The Cards Challenge Week #13.  This is a special 2 week challenge in collaboration with Double Trouble Paper Crafting with Thing 1 and/or Thing 2.  Join the fun with the color challenge HERE.  This beautiful card is available in my Etsy store HERE!  All the details for making this card yourself are below (including links).
All the inks on this card are Distress Oxide Inks.  I used them for both the backgrounds and the flowers.
Picked Raspberry, Speckled Egg, Spun Sugar, Broken China, Fossilized Amber & Mowed Lawn.
The card base is made out of Stampin' UP!'s 'Basic White' card stock.  The back layer is from Stampin' UP!'s 'Magenta Madness' card stock.  I used the Distress Oxides on Sweet Sentiments 'Premium Coloring Paper'.   The weave and daisy backgrounds are from La-La Land Crafts 'Daisies On My Mind' Stencils.
The beautiful daisies are from Scrappy Tails Crafts 'Whimsical Layering Daisies' Metal Craft Dies.  So stunning and intricate.  I colored them with Distress Oxide Inks as well.  So pretty and delicate.
The sentiment is from La-La Land Crafts 'Hello Spring' die set.  Finished it off with a Stampin UP! Open Weave Ribbon in Polished Pink.
Boy am I glad spring is here!!!
---
Ingredients: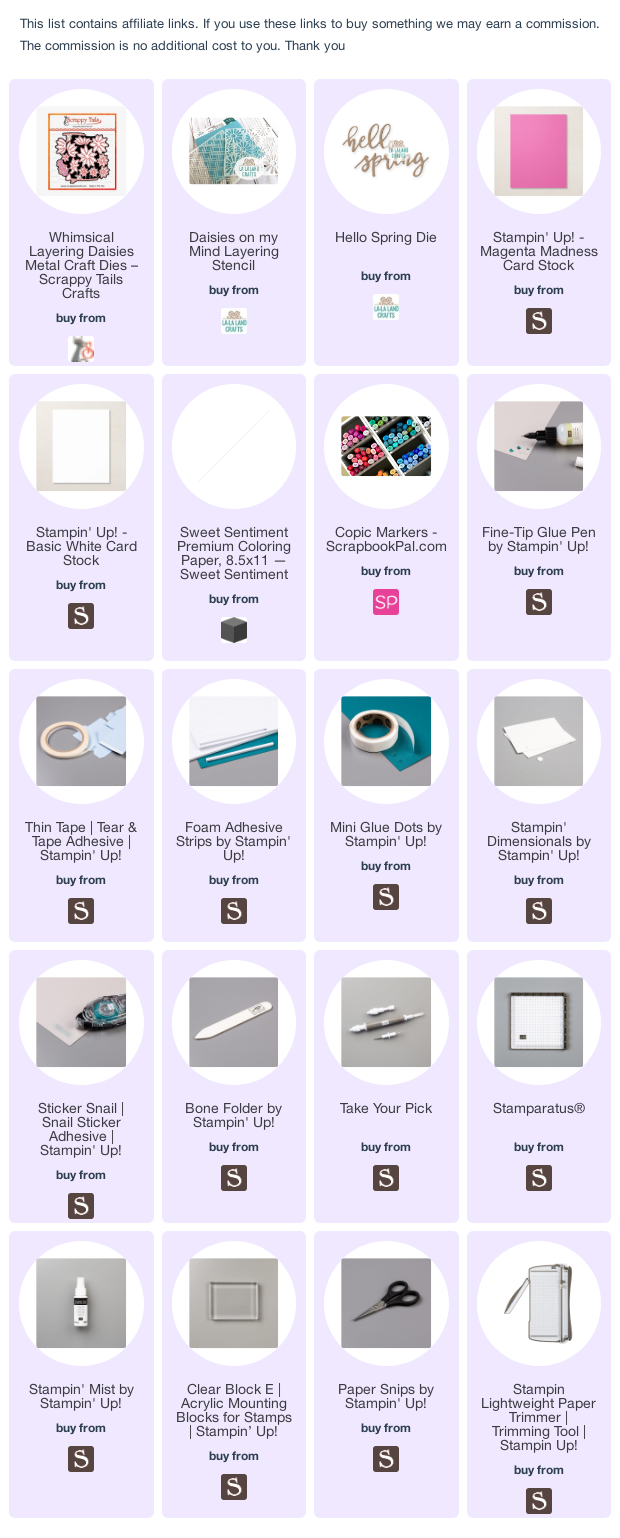 Shops:
Make The Cards Challenge – Click
---
Disclaimer:  I am affiliated with several fun crafting companies. 
This means when you click on one of my links I will earn a small commission if you decide to make a purchase but are at NO ADDITIONAL cost to you.
Thanks for supporting crafters!
---
Click below to follow me on Facebook, Instagram, Twitter & Pinterest!
Bring All Your Ideas To Life… ♥
#lollipotsnpolkadots @teresacplunkett @lollipotsnpolkadots.com #card #diy #handmade #handmadecards #handmadecard #custommade #greetingcards #sayitinwriting #craft #papercraft #papercrafter #papercrafting #papercraftingaddict #cardmaking #cardmaker #lovepaper #paperlove #clearstamps #stamps #ilovestamps #ilovestamping #sharehandmadekindness #creative #makingcards #diycards #cardmakinghobby #cartmakerofinstagram #bethedifference #createandcapture #startofsomethingyou #startofsomethingspecial #diecutcard #cardmakinghobby #madewithlove #makeprettythings