Hey Y'all!!!  OH MY GOODNESS!!!  Does Dudley have a GIRLFRIEND?  Wonder what her name is?  Do tell Dudley!!!  I love this new digital stamp set from Dustin Pike & Whimsy Stamps.  Guess they are both over the moon.  Are you as excited as I am about this new little dragon??  This beautiful card is available in my Etsy store HERE!  All the details for making this card yourself are below (including links).
I started by coloring this too cute 'To The Moon' stamp set from Whimsy Stamps.  I just love digital stamps.  It's colored on Sweet Sentiments 'Premium Coloring Paper'.  Beautiful paper!
COPIC MARKERS:
• Dudley (BG75, BG23, BG18, BG13, BG11, B000)
• Dudley's LOVE & her bow (RV19, RV17, RV14, RV13, RV11, RV10, BV17, BV13, BV02, B000)
• Heart & Moon (R27, R24, YR24, YR23, YR14, BV25)
The card base is made out of Stampin' UP!'s 'Basic White' card stock.  The first layer is made from Whimsy Stamps 'Heart to Heart' 6 x 6 paper.  So bright, cheery and full of LOVE.
I cut a beautiful heart using Whimsy Stamps 'Connected Hearts' die out of the 'Heart to Heart' 6 x 6 paper.  I also cut two rectangles backed by Stampin' UP!'s 'Basic White' card stock for a few more added elements.  Love this heart die!  I finished the card off with the 'True Love' sentiment from Whimsy Stamps 'Dudley's Valentine' stamp set and a few Gina Marie dots.
So excited!  Wonder what her name is???
---
Ingredients: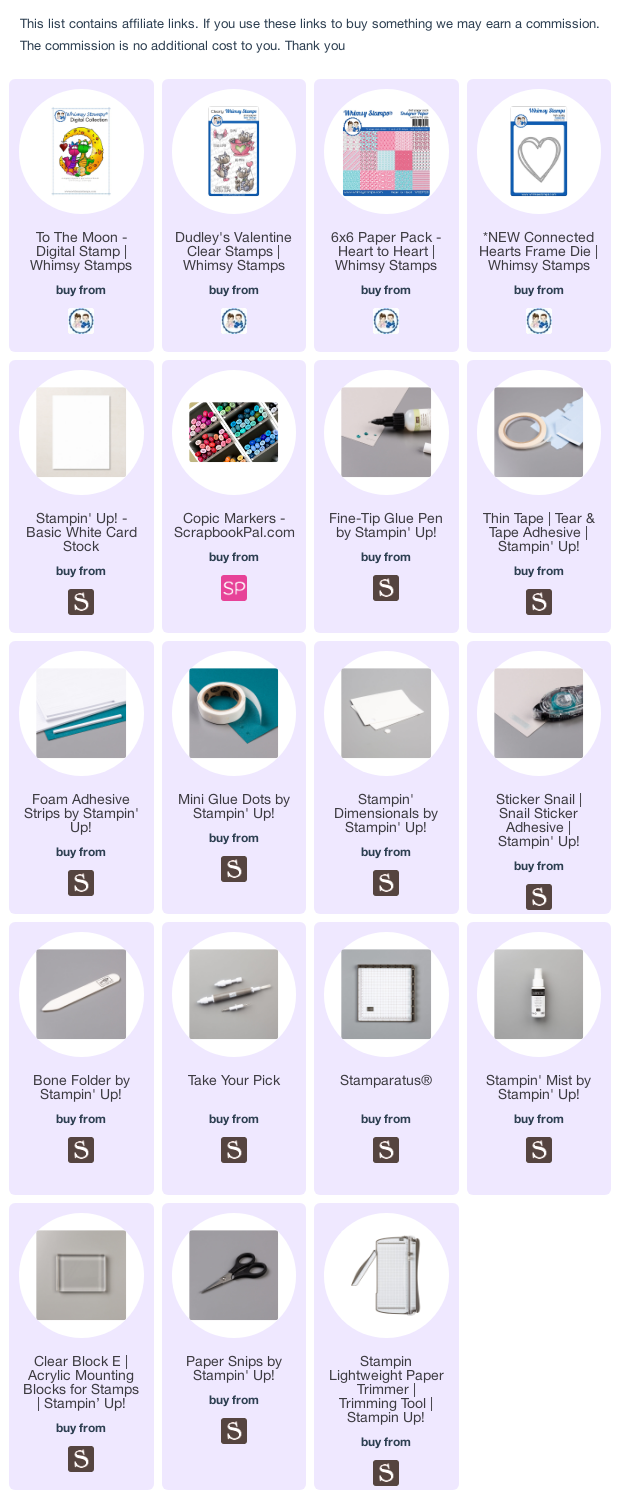 Shops:
---
Disclaimer:  I am affiliated with several fun crafting companies. 
This means when you click on one of my links I will earn a small commission if you decide to make a purchase but are at NO ADDITIONAL cost to you.
Thanks for supporting crafters!
---
Click below to follow me on Facebook, Instagram, Twitter & Pinterest!
Bring All Your Ideas To Life… ♥
#lollipotsnpolkadots @teresacplunkett @lollipotsnpolkadots.com #card #diy #handmade #handmadecards #handmadecard #custommade #greetingcards #sayitinwriting #craft #papercraft #papercrafter #papercrafting #papercraftingaddict #cardmaking #cardmaker #lovepaper #paperlove #clearstamps #stamps #ilovestamps #ilovestamping #sharehandmadekindness #creative #makingcards #diycards #cardmakinghobby #cartmakerofinstagram #bethedifference #createandcapture #startofsomethingyou #startofsomethingspecial #diecutcard #cardmakinghobby #madewithlove #makeprettythings