Hey Y'all!!!  I'm back with the Make The Cards Challenge Week #14.  This week's challenge was a 3-2-1 challenge.  3 embellishments, 2 dies, 1 stamp.  I fell in love with Mae the first time I laid eyes on her this winter.  She's a digital stamp from Whimsy Stamps.  Breezy Mae is the newest stamp in her collection.  With that sweet little almost smile.  Wonder what she's thinking?  This beautiful card is available in my Etsy store HERE!  All the details for making this card yourself are below (including links).
I started by coloring 'Breezy Mae' from Whimsy Stamps.  I just love digital stamps.  It's colored on Sweet Sentiments 'Premium Coloring Paper'.  Beautiful paper!
COPIC MARKERS:
• Dress (YG25, YG23, YG11, YG00)
• Skin & Eyes (E11, E21, E04, E00, R20, R30, R22, B000)
• Hair (N10, N9, N7, N5, N3)
The card base is made out of Stampin' UP!'s 'Basic Black' card stock.  I colored a piece of card stock with Oxide Ink: Twisted Citron, Shabby Shutters & Mowed Lawn.  Love the 'Cotton Tail Blending Brushes' from The Rabbit Hole Designs.  So smooth and effortless for Distress Oxide Inks.  Used the 'Postage Windows A2' die from Whimsy to create the back layer.  I inserted the cut out pieces in reverse order to give the background a little more texture.  Popped them up with foam tape.
I glued 'Breezy Mae' on top of the 'Postage Windows A2' pieces.  Used Whimsy Stamps 'Selfie' dies to cut a cool phone outline from Stampin' UP!'s 'Basic Black' card stock.  One of the dies included in the set is the word Smile.  Her's is so pretty don't you think?
Added two beautiful flowers in complementary colors and a few dots.  LOVE!
---
Ingredients: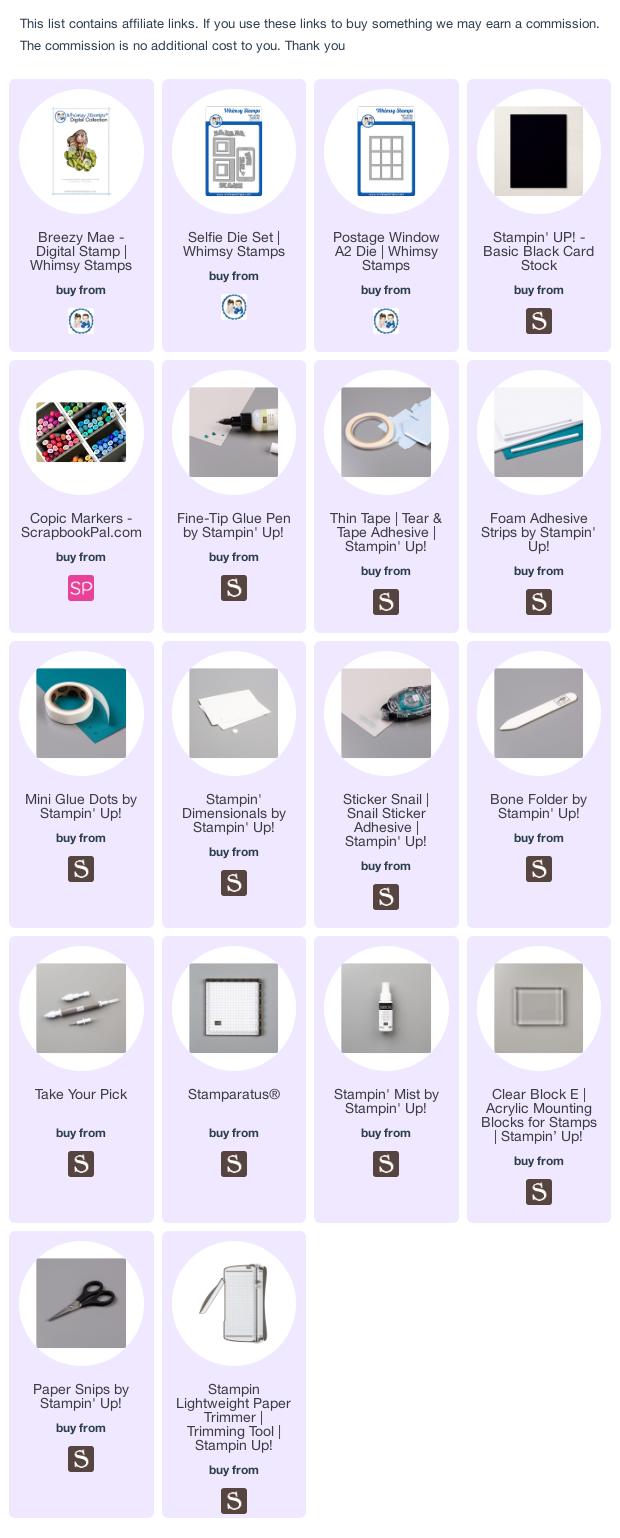 Shops:
Angie Blom Digital Designs – Click
Make The Cards Challenge – Click
---
Disclaimer:  I am affiliated with several fun crafting companies. 
This means when you click on one of my links I will earn a small commission if you decide to make a purchase but are at NO ADDITIONAL cost to you.
Thanks for supporting crafters!
---
Click below to follow me on Facebook, Instagram, Twitter & Pinterest!
Bring All Your Ideas To Life… ♥
#lollipotsnpolkadots @teresacplunkett @lollipotsnpolkadots.com #card #diy #handmade #handmadecards #handmadecard #custommade #greetingcards #sayitinwriting #craft #papercraft #papercrafter #papercrafting #papercraftingaddict #cardmaking #cardmaker #lovepaper #paperlove #clearstamps #stamps #ilovestamps #ilovestamping #sharehandmadekindness #creative #makingcards #diycards #cardmakinghobby #cartmakerofinstagram #bethedifference #createandcapture #startofsomethingyou #startofsomethingspecial #diecutcard #cardmakinghobby #madewithlove #makeprettythings