Hey Y'all!!!  Oh what fun these Summer Tortoises are having frolicking in the spring flowers.  This fun little stamp is from All Dressed Up Stamps on Etsy.  I'd love to look out my back window and see these little tortoises in my yard.  Wouldn't you?  This beautiful card is available in my Etsy store HERE!  All the details for making this card yourself are below (including links).
I started by coloring the 'Summer Tortoises' digital stamp set from All Dressed Up Stamps.  I just love digital stamps.  It's colored on Sweet Sentiments 'Premium Coloring Paper'.  My favorite copic paper!
COPIC MARKERS:
• Flowers, Turtles & Leaves (R09, R06, R04, R02, BG07, BG05, BG02, B000, YG09, YG06, YG11, YG01, Y19, Y08, R29, R27, R24, E37, E35, E31)
• Glitter Gel Pens, White Gel Pen
The card base is from Stampin' UP!'s 'Magenta Madness' card stock.  The background layer is from Doodlebug Designs 'Hey Cupcake' 6 x 6 paper pad.  What fun paper.  I rounded the edges with a paper rounder from Stampin' UP!.  The scalloped border around the 'Summer Tortoises' is created using La-La Land Crafts 'Scalloped Squares' die set.  I just centered it on the Hey Cupcake paper.
The 'Hello Spring' sentiment is from a La-La Land Crafts die set.  I cut it from Stampin' UP!'s 'Magenta Madness' card stock and glued it to the top of the card.  Tied a matching ribbon around the bottom for a pretty finish.
Don't those tortoises & flowers look just like springtime?
---
Ingredients: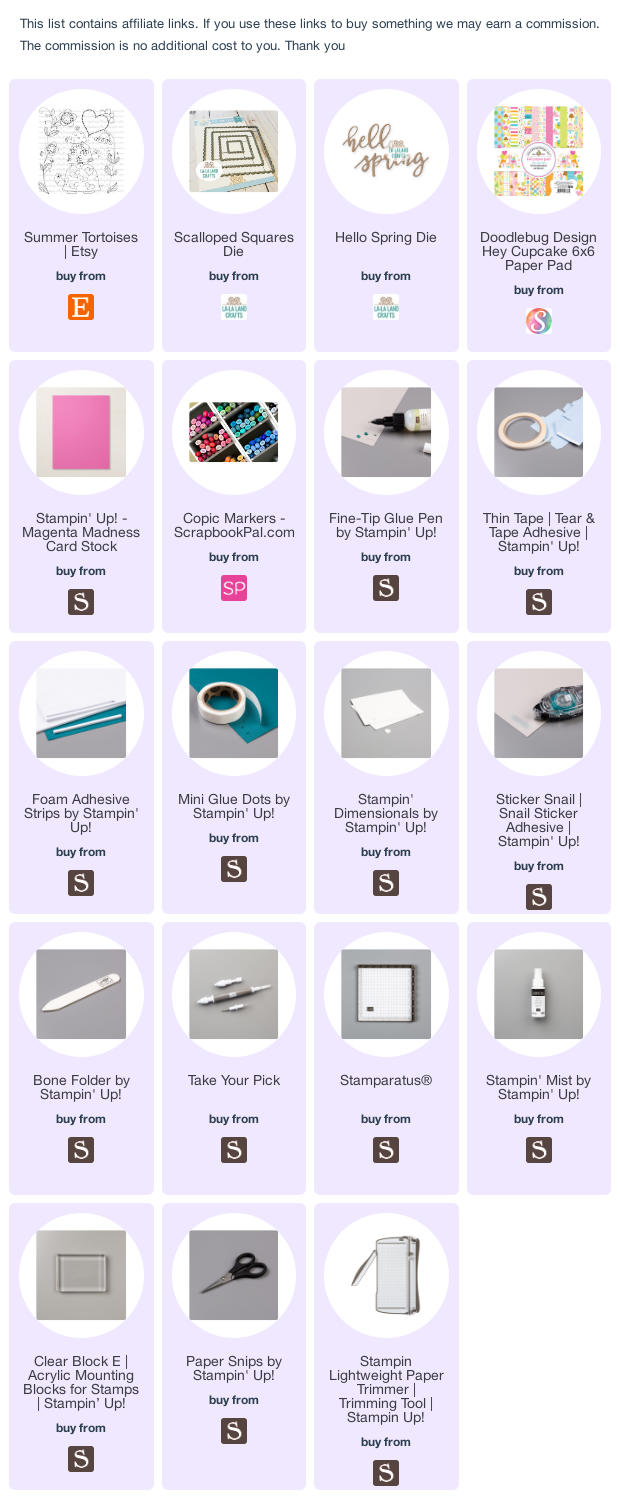 Shops:
---
Disclaimer:  I am affiliated with several fun crafting companies. 
This means when you click on one of my links I will earn a small commission if you decide to make a purchase but are at NO ADDITIONAL cost to you.
Thanks for supporting crafters!
---
Click below to follow me on Facebook, Instagram, Twitter & Pinterest!
Bring All Your Ideas To Life… ♥
#lollipotsnpolkadots @teresacplunkett @lollipotsnpolkadots.com #card #diy #handmade #handmadecards #handmadecard #custommade #greetingcards #sayitinwriting #craft #papercraft #papercrafter #papercrafting #papercraftingaddict #cardmaking #cardmaker #lovepaper #paperlove #clearstamps #stamps #ilovestamps #ilovestamping #sharehandmadekindness #creative #makingcards #diycards #cardmakinghobby #cartmakerofinstagram #bethedifference #createandcapture #startofsomethingyou #startofsomethingspecial #diecutcard #cardmakinghobby #madewithlove #makeprettythings