Hey Y'all!!!  These buildings remind me of the houses and buildings in Bermuda.  They are so vibrant and beautiful.  Also a fun way to tell someone you know how fabulous they are.  Love the Slimline Cityscape dies from Whimsy Stamps.  This beautiful card is available in my Etsy store HERE!  All the details for making this card yourself are below (including links).
I started by cutting these fun little cityscape buildings using Whimsy Stamps 'Slimline Cityscape' dies.  I cut two full sets.  I used the long slender die for the road to cut the bottom edge of the Cityscape buildings.
Used Distress Oxide Inks to color them.   Love the 'Cotton Tail Blending Brushes' from The Rabbit Hole Designs.  So smooth and effortless with inks.
Distress Oxide Picked Raspberry
Distress Oxide Speckled Egg
Distress Oxide Salty Ocean
Distress Oxide Spiced Marmalade
Distress Oxide Twisted Citron
Distress Oxide Fossilized Amber
The card base is Stampin' UP!'s 'Basic White' card stock.  I cut a piece of retired Whimsy Stamps paper for the back layer.  It has so many colors and matched the buildings perfectly.
I cut a piece of scrap paper with one of the cloud dies from Whimsy Stamps 'Grass Cloud Edger' dies.  I used it as a template to create the beautiful Distress Oxide Spiced Marmalade clouds on a piece of Stampin' UP!'s 'Basic White' card stock size 5 x 3 3/4.
I also used Whimsy Stamps 'Grass Cloud Edger' dies to create several pieces of grass and colored them with Distress Oxide Mowed Lawn.
I alternated layers of cityscape buildings and grass to create the fun building groups.  Finished the card with a cute sentiment from Whimsy Stamps 'A Boys Dream' stamp set.  Colored the background with Distress Oxide Picked Raspberry and cut it out with one of Whimsy Stamps 'Quick Strips' dies.
You're Out Of This World!
---
Ingredients: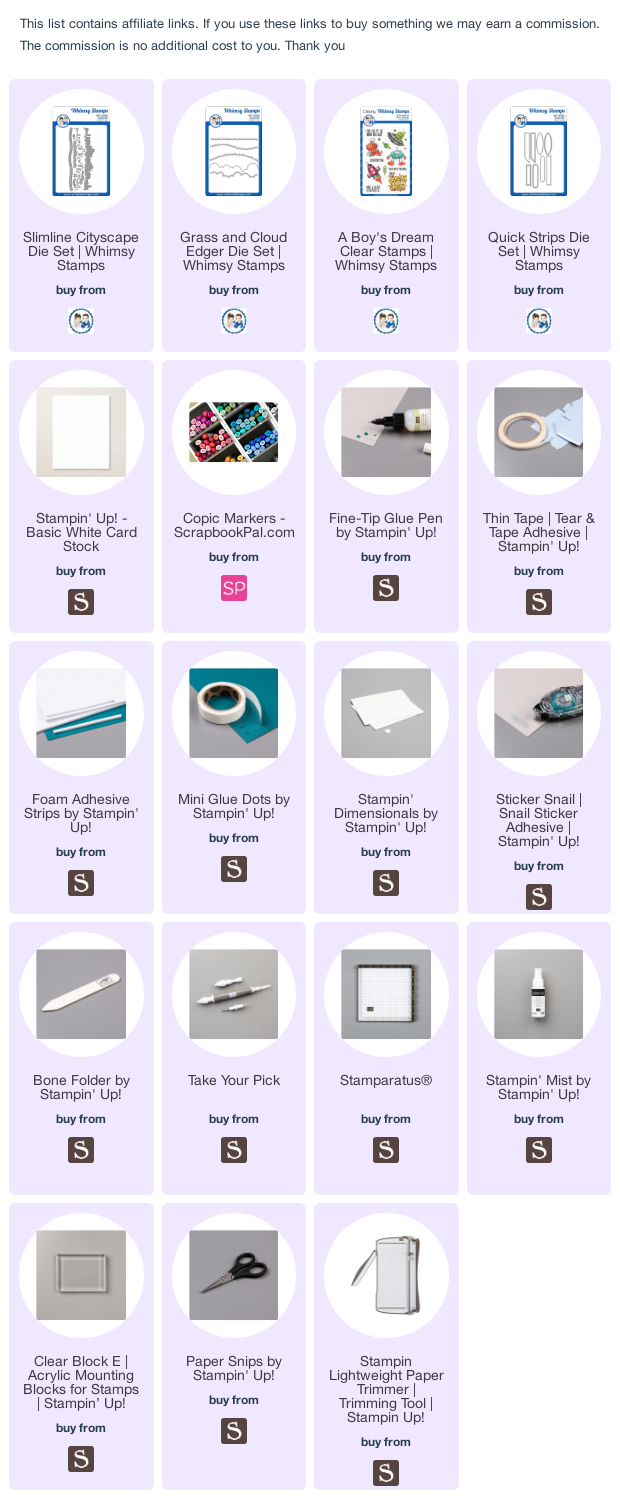 Shops:
---
Disclaimer:  I am affiliated with several fun crafting companies. 
This means when you click on one of my links I will earn a small commission if you decide to make a purchase but are at NO ADDITIONAL cost to you.
Thanks for supporting crafters!
---
Click below to follow me on Facebook, Instagram, Twitter & Pinterest!
Bring All Your Ideas To Life… ♥
#lollipotsnpolkadots @teresacplunkett @lollipotsnpolkadots.com #card #diy #handmade #handmadecards #handmadecard #custommade #greetingcards #sayitinwriting #craft #papercraft #papercrafter #papercrafting #papercraftingaddict #cardmaking #cardmaker #lovepaper #paperlove #clearstamps #stamps #ilovestamps #ilovestamping #sharehandmadekindness #creative #makingcards #diycards #cardmakinghobby #cartmakerofinstagram #bethedifference #createandcapture #startofsomethingyou #startofsomethingspecial #diecutcard #cardmakinghobby #madewithlove #makeprettythings