Hey Y'all!!!  Welcome to Paper Sweeties!!!  It's our New Release Rewind!!!!!  Created a card using the Craftin' With My Gnomies stamps and sweet cuts with not a gnome in site.  Go figure.  They must be off making memories.  You'll find links to the sneak peeks from other members of the design team below as well as all the details for this card.
I LOVE the 'Craftin' With My Gnomies' stamp set from Paper Sweeties.  And the matching sweet cuts.
I decided I'd make a card I could include with a special gift.  This stamp set is perfect with it's 'Made With Love' stamp.  Fits perfectly on top of a piece of paper from Paper Sweeties 'Crafting With My Gnomies' 6 x 6 paper pack cut with the 'Tag for You' sweet cuts.  So many beautiful, bright and fun patterns to choose from.
I cut several hearts from the 'Crafting With My Gnomies' 6 x 6 paper pack using the 'Stitched Tags #1' sweet cuts.   Stamped and fussy cut the sentiment from the 'Craftin' With My Gnomies' stamp set.  Added a cute flower button and some liquid pearls.
Don't you love craftin' with YOUR gnomies?
Be sure to check out everything Paper Sweeties!!!!!!
Here are links to my fellow design team members blogs.  Click on each link to see more 'sneak peek' inspiration!
Debbie Marcinkiewicz – Paper Sweeties
Karen Bull 
Karen Letchworth
Larissa Heskett
Lisa Golzbein
Maria Patrick
---
Ingredients: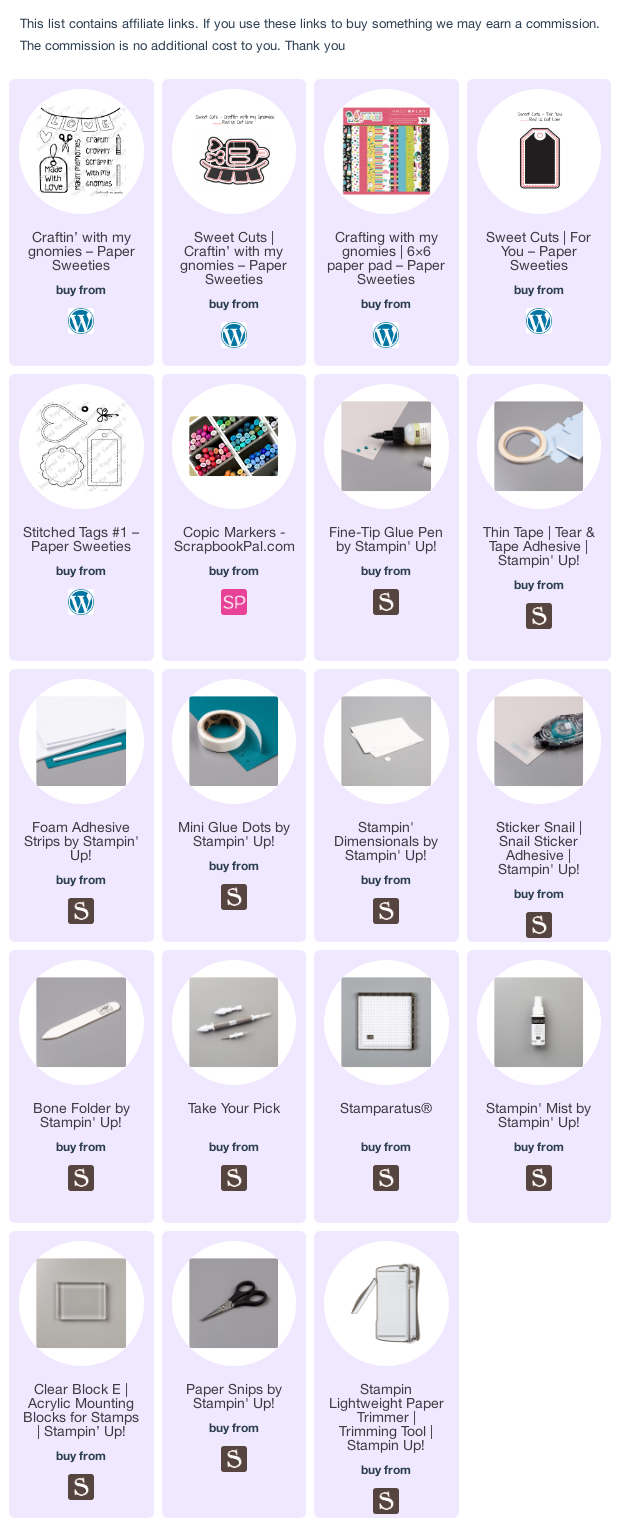 Shops:
---
Disclaimer:  I am affiliated with several fun crafting companies. 
This means when you click on one of my links I will earn a small commission if you decide to make a purchase but are at NO ADDITIONAL cost to you.
Thanks for supporting crafters!
---
Click below to follow me on Facebook, Instagram, Twitter & Pinterest!
Bring All Your Ideas To Life… ♥
#lollipotsnpolkadots @teresacplunkett @lollipotsnpolkadots.com #card #diy #handmade #handmadecards #handmadecard #custommade #greetingcards #sayitinwriting #craft #papercraft #papercrafter #papercrafting #papercraftingaddict #cardmaking #cardmaker #lovepaper #paperlove #clearstamps #stamps #ilovestamps #ilovestamping #sharehandmadekindness #creative #makingcards #diycards #cardmakinghobby #cartmakerofinstagram #bethedifference #createandcapture #startofsomethingyou #startofsomethingspecial #diecutcard #cardmakinghobby #madewithlove #makeprettythings